Shadow: A Walk with Lindsay Barr
by Another Sam and Sam Production | Posted on 11 November 2020
Peterborough, Ontario based musician Lindsay Barr has had her own unique journey through the COVUD-19 pandemic, but is ready to come back to the forefront again with Shadow, her upcoming single and video. (photo by Samantha Moss)
"Things were getting weird before the pandemic, and then you chuck in a pandemic.," Lindsay Barr tells me, half humorously but half exasperated.
It'd been over a year since I last saw Lindsay, during the filming of the music video for her single I Don't Dance.  Filmed in an auditorium located in a church basement, it was a big affair with music, dancing, balloons, streamers and a crowd of beautiful people.  But today the mood has shifted to a cold autumn day, where the hint of an early winter freezes the fingers and fills cold air in your chest.  Lindsay asked to meet at Little Lake Cemetery, a short walk outside of downtown Peterborough.  Arriving just before dusk, the cemetery is empty except for a sighting of a fox, the noise of a flocks of geese flying overhead, and the ghosts that fill the beautiful peaceful park.
"This place is special to me because my husband Denis and I come walking here a lot," Lindsay says.  I understand her sentiment as Little Lake Cemetery has been a favorite space of mine to collect my thoughts since I was young. 
"But before that, this is the only place anywhere where there is a plaque with my brother's name on it," Lindsay continues. "My brother died almost eighteen years ago. He drowned, and we never found his body. Geoffrey was a bit of a vagabond. He was here, there and everywhere, and he did stay in Peterborough with us for a stint. He died in British Columbia, and we had no body or no head stone and, ironically, my Dad's side of the family are tomb stone engravers. But we didn't have anywhere to lay his body or represent with a headstone so we got a plaque and put it at the entrance way. Its weird how just to have his name in the world like that is really special. So this is really the only place I have to kind of connect with, like anything, like anywhere. This is a real tactile. This place gives me a little solitude, where I come walking and thinking."

Lindsay Barr points out her brother Geoffrey's plaque at Little Lake Cemetery: "Its weird how just to have his name in the world like that is really special." (photo by Samantha Moss)
Best known in Peterborough for her brand of ass kicking rock 'n roll/blues music, Lindsay is one of the most dynamic performers that calls Peterborough home.  With a high energy that is only eclipsed by her big personality, Lindsay is a powerful force on stage making her a local favorite.  But this time I'm experiencing another side of Lindsay I've never seen before – more thoughtful and somber, but still containing the raw honesty you'd expect from her.  Like all of us, the COVID-19 pandemic has changed things for Lindsay, but due to her new second career as a nurse, she's been exposed to an intensified version of isolation.
"The arts have always been in trouble," Lindsay states.  "When I was a full-time musician I was always struggling. But now it's been taken from us, so you can't even have fun while you're struggling. You can't even struggle to struggle anymore. I feel everything is hyper compounded because you can't practice. I haven't seen my bandmates at all during this time. Virtually, maybe. It's dire."
"I feel, probably, similar to a lot of people right now," Lindsay says, referring to the social changes the world has gone through due to the COVID pandemic.  "I feel cooped up. I feel confined. I sometimes feel that there is not a lot of hope. I wonder why am I creating. What am I doing?"
"I'm really discovering how small my life is. A lot of my life evolved, and revolved, around music and the occurrences around music," Lindsay continues. "And now I notice that a lot of my relations are based around acquaintances in the arts, which I love, but now I'm feeling that life is smaller than I really originally thought. It really makes you do a personal inventory of what is important to you and who is important to you, and how that looks in your life. So a lot of self-reflection has been going on."

"I realize that there are two parts of me. There is the performer, and that world. But then also trying to figure out who I am without that. The performer gives me self-confidence, identity and all that shit. But you take that away I begin to wonder who am I?" (photo by Samantha Moss)
"I realize that there are two parts of me. There is the performer, and that world. But then also trying to figure out who I am without that. The performer gives me self-confidence, identity and all that shit. But you take that away I begin to wonder who am I? I'm a girl with a lop-sided ponytail and yoga pants, and perpetually just staying in my home. My identity has been hit."
Yet, despite these feelings of isolation and loneliness, Lindsay is ready to get back out in front with a brand new single, dropping at the end of November, Titled Shadow, the song is a moody yet soulful piece of music with a back beat that induces goosebumps, while still sounding distinctly like a classic Lindsay Barr composition.
"Shadow is about my husband Denis," Lindsay tells.  "I felt that a lot of times when I think of shadows, I think of my own shadow. Denis is kind of an outwardly serious person but he's quite funny. Well we were walking and his shadow was cascaded on the cement. And I said 'I love your shadows. I love you, but I love your shadow. I love every extension of you.' Well I was doing a lot of finger picking at the time and this song came out of that. I wrote 'I love your shadow when you walk.' I wanted this kind of heavy back beat visceral feel to the song. I say all these things to my long-time producer Adam Newcome and we get to work like mad scientists and we make it happen."
Shadow will be accompanied with a video created by acclaimed Peterborough videographer Rob Viscardis.  "Rob and I work well together," Lindsay says, who last worked with Rob on the I Don't Dance video.   "If I have an idea he believes in me. When I have a vision he says, okay, we can do this. We did a real simplistic video and relied heavily on lighting and shadows and movement."
Although I see a surprising new edge in Lindsay during our visit, she still has the same sense of spontaneity and fun I expect from her.  Albeit it a bit more serious, she still comes out with the zingers.  While she repeats what I keep hearing from many people working in the arts, Lindsay says it much more eloquently.  But in many ways, her job In the medical field has put her in a position where she didn't get the same break from social distancing many of us experienced this summer, giving her a different experience than many of us.

"I notice that a lot of my relations are based around acquaintances in the arts, which I love, but now I'm feeling that life is smaller than I really originally thought. It really makes you do a personal inventory of what is important to you and who is important to you, and how that looks in your life." (Photo by Samantha Moss)
"I have this thought process of reinventing or rebranding," she says.  "Or taking what I have and revaluating because a lot of my life I was totally geared towards music and this sort of lifestyle. Although I was involved in it a lot, perhaps I didn't live up to my envisionment. Becoming a nurse changed me a lot.  I see the impact on people's behaviors. People are hyper paranoid. I work for VON so I travel to homes and facilities and schools and people's residential homes, shelters. Sometimes I'm the only person people literally see. They maybe see someone who delivers groceries."
So is there a sense of relief from the heavy shadows that falls upon us?  Lindsay doesn't have the answer.  Nobody does.  But with a new song and a new video, Lindsay keeps creating, and her current experience gives her a unique outlook that offers fodder for more work to come.  "It's been a real shock," she states.  "People are lonely. People are sad. And I feel that our culture is one that we talk a lot. We say that we are all in this together, and all this nonsense, but there are very lonely people. I have a full life in a lot of ways, but I feel lonely. When you take away that social life, what are you left with?  I'm about ready to start writing some songs again. I have some stuff to write about now"
PHOTO GALLERY BY SAMANTHA MOSS

MossWorks Photography
 
Watch Peterborough singer Lindsay Barr's new, must-see music video
'I Don't Dance' is a high-energy, toe-tapping delight that's sure to catch on
Musician Lindsay Barr has released a new music video that was filmed in Peterborough called I Don't Dance. It's available now on YouTube. - MossWorks Photography 
Peterborough powerhouse Lindsay Barr has released a new, must-watch music video sure to get your feet tapping and body moving.
The video features an energetic group dancing to Barr's new single called "I Don't Dance." It's set as a 1950s-style sock hop with Barr taking centre stage.
The lively upbeat tune, coupled with a high-production video directed by Rob Viscardis and energetic dance choreography by Melissa Earle of Revolutions Dance, is sure to delight.
"If you have a vision, make it happen," said Barr of bringing her idea for the video to life.
Sitting in Riley's pub with her husband Denis Goggin last spring, Barr first came up with the idea to do a video about a person who couldn't dance.
"Actually, the concept of the video came before the song," said Barr of her unconventional approach to the project.
Once the idea was seeded, Barr quickly set to work writing a song, which she says came easily.
Soon after, the song was recorded and plans were put into action to film the video and have it ready for release on YouTube on Friday, Nov. 15.
"We filmed it on Sept. 28 at St. James United Church in Peterborough," said Barr.
She adds that it took about eight hours to film.
"It was a really fun time," said Barr, who called on friends to join her and be included in the dance party-style video.
"We all got together to make something cool. I couldn't have done it without the support of my friends," added Barr.
"I Don't Dance" is Barr's newest single. She has released two albums and an EP as well as several other singles throughout her performing career. Her music is available on streaming and music download sites.
Most recently, Barr says she's been trying a new "throwback" style to her music, which she enjoys singing and performing.
You can catch Barr's next Peterborough performance on Dec. 14 at The Social on George Street starting at 9 p.m.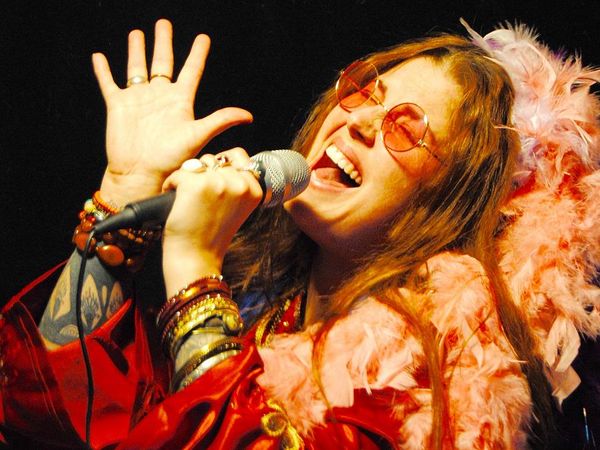 Best Musical
A Musical Journey with Janis Joplin
April 2018. 
Written by and starring Lindsay Barr.
Musician and actor Lindsay Barr as Janis Joplin "A Musical Journey with Janis Joplin" at Peterborough's Market Hall. (Photo: Denis Goggin)
Most people who know me know I'm not a fan of musical tribute artists. If I can't see the real thing, I don't want to go and, if the musician is dead, I'd much rather stay at home and listen to their records. So let it be said first and foremost that local performer Lindsay Barr's A Musical Journey with Janis Joplin went far beyond the usual tribute concert.

Far more theatrical in its execution, the performance took the audience through all of the peaks and valleys of the legendary musician's extraordinary but tragic life, from her early days as a folk singer from Texas, to San Francisco, Monterey Pop, Woodstock, and to her tragic death in an LA hotel room. It took the audience on the musical journey it promised.

Lindsay Barr did the impossible by not just performing Janis Joplin's songs through every stage of her career, but by becoming the living embodiment of Janis, recreating her energy, her look, and her unique and highly original sound. Under the guidance of musical director Rico Browne, a gifted group of musicians provided spot-on backing vocals for Lindsay, furthering the experience. Meanwhile, Addison Wylie, Terry Convey, and Adam Martignetti helped recreate infamous television appearances and concert moments, providing a complete musical theatre experience.
The only thing wrong with the show was that it was a one-night-only performance — never before have I seen the Market Hall packed to the rafters. This show was an incredible musical experience that should not only be revived, but taken on the road. The world doesn't need another Eagles tribute group — audiences need to see shows like this one.

A Musical Journey with Janis Joplin was a joyous and magical night and a journey I want to take with Lindsay Barr all over again. Bring this show back!
Electric City Live
LINDSAY BARR: OWNING THE STAGE
A life in music, art, and performance
BY GABE POLLOCK +/- UPDATED APRIL 3, 2018

When I saw Lindsay Barr on stage in the local production of Evil Dead: The Musical in October of last year, it felt like the arrival of a new whirlwind force on the local theatre scene. In a production full of big performances and wild, over-the-top moments, she shone bright. Her character, the bookish Cheryl, is (spoiler alert) the first to be transformed into a foul-mouthed, unhinged, undead 'deadite,' and spends most of the rest of the play locked in the basement, popping out occasionally to viciously mock the rest of the cast, spray blood at the audience, and generally chew the scenery.
"I was like, this is my dream coming true!" Lindsay says of the production. "I feel like my whole life people have been telling me to tone it down. Every class I've been in. My personality is very large, and somehow I've found that theatre encourages that."
But of course, while Evil Dead was Lindsay's first play since high school, it was far from the first time she's performed in Peterborough. She's been a fixture of the local music scene for most of a decade, her big personality finding voice in grimy, visceral blues-rock. When Lindsay is on stage, she owns it wholly. She struts and screams and dances around. "I enjoy watching someone who demands your attention," she says. "I don't understand why you'd do it any other way."
This big persona isn't just an act: Lindsay has lived life to its fullest, diving headlong into art, cutting her teeth on the discerning stages of St John's, Newfoundland, releasing three albums, and even making it onto Canadian Idol.
And while Lindsay has been away from the spotlight for a couple years, she is currently planning a major comeback, writing and performing as the lead in A Musical Journey With Janis Joplin this month, and working on new music to be released this summer. There is no stopping this tireless performer.
 
Lindsay Barr was born in Labrador, but soon moved with her family to Port Hope, and then, in high school, to Peterborough, where she attended PCVS.
Her home was always full of music. Her parents, both teachers who were highly encouraging of her art, introduced her to blues music, while her brother Geoff gave her an early education in punk and metal, frequently blasting Dead Kennedys at 8:30 in the morning.
Lindsay cites the songwriting of Bad Religion's Greg Graffin as particularly inspiring, helping her to realize that "you can say things not everybody always likes." By age 12, she was joining her brother at local punk shows in Port Hope. "It was very male dominated, but I didn't care. It was so ignited with energy! People think it's aggressive and it's all these things, but there was something inside me that was answered by these very visceral, very physical performances."
Up until then, Lindsay had been following a path of athletics, as a competitive figure skater and gymnast, "but I had this pull. I loved to write and draw and sing. My style was different than my girlfriends. I had an aversion to pink. I distinctly remember going, am I a jock or am I a freak?"
At age 13, she made her choice: she shaved her head and dove headlong into art. It wasn't long before she taught herself to play guitar and started singing. "I was very interested in poetry prior to that. Put one and one together, and boom you're a songwriter."
Then, tragedy struck when Lindsay was 20, as her brother passed away suddenly. Geoff had always been a free spirit, who was reading Nietzsche when he was 10, quit school at 14, and eventually moved to British Columbia's Kootenays, where he built a house himself on the side of a mountain and lived off the land. Says Lindsay, "I wonder if, in some way, somehow, he knew he only had 22 years."
One day, while out sapping birch trees, Geoff's boat capsized in a frigid mountain lake. "We didn't find out he was dead for a couple days," says Lindsay. "Fuckin nuts. That shit really makes you take life a little bit seriously. Go have fun, but spend time with the people you want to spend time with; do the things you want to do."
At the time, Lindsay was scheduled to start studying Fine Art at York University, "but when Geoff died, I was like, I'm going to go do what I really want to do." So, she packed up and moved to St John's, where her family was originally from, to pursue a career in music full time.

George Street in St John's is two straight blocks of nothing but bars, pubs, and restaurants, with live music in the air every night. It's a mecca for musicians, full of boundless opportunities for performance, but also a relentless meritocracy, where the fans know good music and there's always another show a few doors down. "I cut my teeth on the scene there," says Lindsay. "They really taught me what's what. You smarten up real quick when you start hanging out with Newfoundland musicians, because they're so talented."
She had a bit of a rocky start. A friend suggested she try an open mic, and when she got there, she found a room crowded with hundreds of people. "I got through a song and a half, and I realized I wasn't demanding anyone's attention. Something happened inside me." She handed the guitar back to the host, grabbed her jacket, and walked out the door. "As I was walking home, I thought, that's never going to happen again—ever. From then on, I knew my shit, I presented music that was good, and I slowly started performing more."
She kept doing open mics, and was soon approached by the owner of a local bar. "He said, 'Know lots of songs?' I said, 'I know so many songs!'" In reality, her repertoire at the time consisted of just a few cover songs, but "I went home and learned every cover." She quickly built a three-hour set, and started playing every Saturday night on George Street.
She formed a "ska-rock-blues-ish" band, the Firewires, where she was frontwoman and songwriter. They opened for Sam Roberts and Our Lady Peace, but just as they were getting ready to release their debut album, they had a falling out and broke up.
At the time, Lindsay was getting ready to start a Fine Arts degree at Halifax's NSCAD, and she decided, "Like shit I'm leaving the island with nothing! I marched my ass down to the bank and took out a line of credit. In Newfoundland, one thing they taught me was, why the fuck are you waiting for someone else to do this for you? I poached the best musicians from every band and I put 'em together and formed a power band and got them to sing my songs."
The resulting album was 2007's Devils of Pride, released under her own name. It was a moderate success, with songs on the East Coast Countdown, a MuchFACT-produced music video for "Riot Queen," and a number of gigs and small tours while Lindsay attended NSCAD.

Soon, Lindsay moved back to Peterborough. It was supposed to be a short-term thing: "I just thought I was coming back for a couple weeks. Shoved all my stuff on my parents' deck and covered it in a tarp. Eight years later…"
Again, Lindsay dove in head-first. "I just fell in love with it. It had been eight or nine years since I'd been here, and I hadn't really played outside open mics here, so people didn't know me, but I was equipped." She already had a band lined up before she even arrived, and within a month, the Lindsay Barr Band had another regular gig, playing every Thursday at the Dobro.
Her well-honed musicianship and dynamic stage presence made her a local favourite. She released another two albums, 2011's Dove and Dagger and 2013's Time to Let Go; performed regularly at Dobro, Black Horse, and other bars; and was even a rare local headliner on the Peterborough Musicfest stage. "When I look back I'm proud of my work and I'm thankful to be able to have done it, and have the balls to do it. A lot of people hem and haw, but it either is or it isn't."
The last couple years have been relatively quiet for Lindsay. The grind of pursuing a career in music was taking its toll, and Lindsay made the decision to take time off for herself. "Something needed to give," she says. "I was chasing something that a million other musicians and actors and whatever are chasing. And I learned on my time off that I don't have to chase anything. I don't have to be anything other than I already am, and I'm comfortable with that. I was always looking for bigger, bigger, better, better. Just to be able to create is enough for me. It's been a great experience. I feel more well rounded… however, I'm thirsty."
Her role in Evil Dead helped reignite something in her. She's taking those lessons into a new project, A Musical Journey with Janis Joplin, which she's writing and starring in. It's not hard to see the parallels between Lindsay and Janis, the bombastic, full-throated singer and wildwoman who brought grimy blues to the stages of Woodstock and Monterey Pop in the late 60s. Indeed, Lindsay first sang Janis in high school, when a music teacher saw something in her and suggested she perform "Piece of My Heart."
"I really started listening to her then, but now I'm studying her—two very different things. I really do feel like, yes her performance is aggressive, but she was a very fragile person. Everyone thinks she didn't give a shit about anything. She cared deeply about how people felt about her and how people treated her. She's raw and all these things, but have you heard 'Summertime,' or 'Maybe,' or 'My Baby?' These songs…"
The show will marry Lindsay's love of music and theatre, with songs broken up by 'theatrical moments' that chronicle important moments in Janis' tragically short career. "I'm Janis all night. I don't break character. I am embodying her, as much as I hope I can." She'll be joined by an all-star local band, and Emily Burgess Band's Rico Browne serves as the show's musical director. Barbara Mills' Scene Productions is producing the show.

When I ask Lindsay if she's continued writing during her break, she responds flatly, "That was the break." Creating art seems to be a compulsion for her. She'll frequently wake up in the middle of the night to write poetry, paint, or work on songs. "I'm always coming up with little bits here and there. Maybe think of a chorus, and put it through the microphone, send it to my producer, like is this even worth pursuing?"
Working with producer Adam Newcomb and her guitarist and husband Denis Goggin, she's been in and out of the studio, "really listening. Would this sound better with this behind it? We'll put in horns and take 'em out. We're not married to the music, so it becomes all about the songs, which is a really interesting process."
The result is six songs that Lindsay is planning to start releasing over the summer. She describes the songs as more "pop-oriented" than her previous material, and with them, she's hoping to return to the scene in a big way, with a series of singles and music videos.
"Living in Peterborough I feel support. I feel really at home here. I'm sticking around for a while. I really just want to be immersed back in the arts scene, back on stage. I want to focus on putting some music out, gain some people who are interested in my music."
For the moment, Lindsay is focused on A Musical Journey with Janis Joplin, which happens April 13, as well as her next theatrical endeavour, a role as Captain Hook in the St James Players' production of Peter Pan: A Musical Adventure, which happens April 27 to 29. "But then come May—woo! Spring cleaning and making music."
Her theatrical projects and art-making have clearly been exceptional creative outlets for Lindsay, but when she talks about returning to music, she seems to vibrate with excitement.
"There's a release," she says. "It's calisthenics at its finest. You're using your natural instrument, and then you have an instrument on. So you're accessing different parts of your brain. And then you're also reacting to the music physiologically. You're bouncing around. It's an all-encompassing thing to me. The next day I feel this lovely experience of energy expenditure, where you're just, like, satisfied. It's coming from within, and from outside of you, and the whole bit."
She pauses, seemingly worked up by her own description, and gives a broad smile. "God, I just want to go sing in the street!"
 
See Lindsay Barr in A Musical Journey with Janis Joplin, April 13 at Market Hall (more info), and in Peter Pan: A Musical Adventure, April 27 to 29 at St James United Church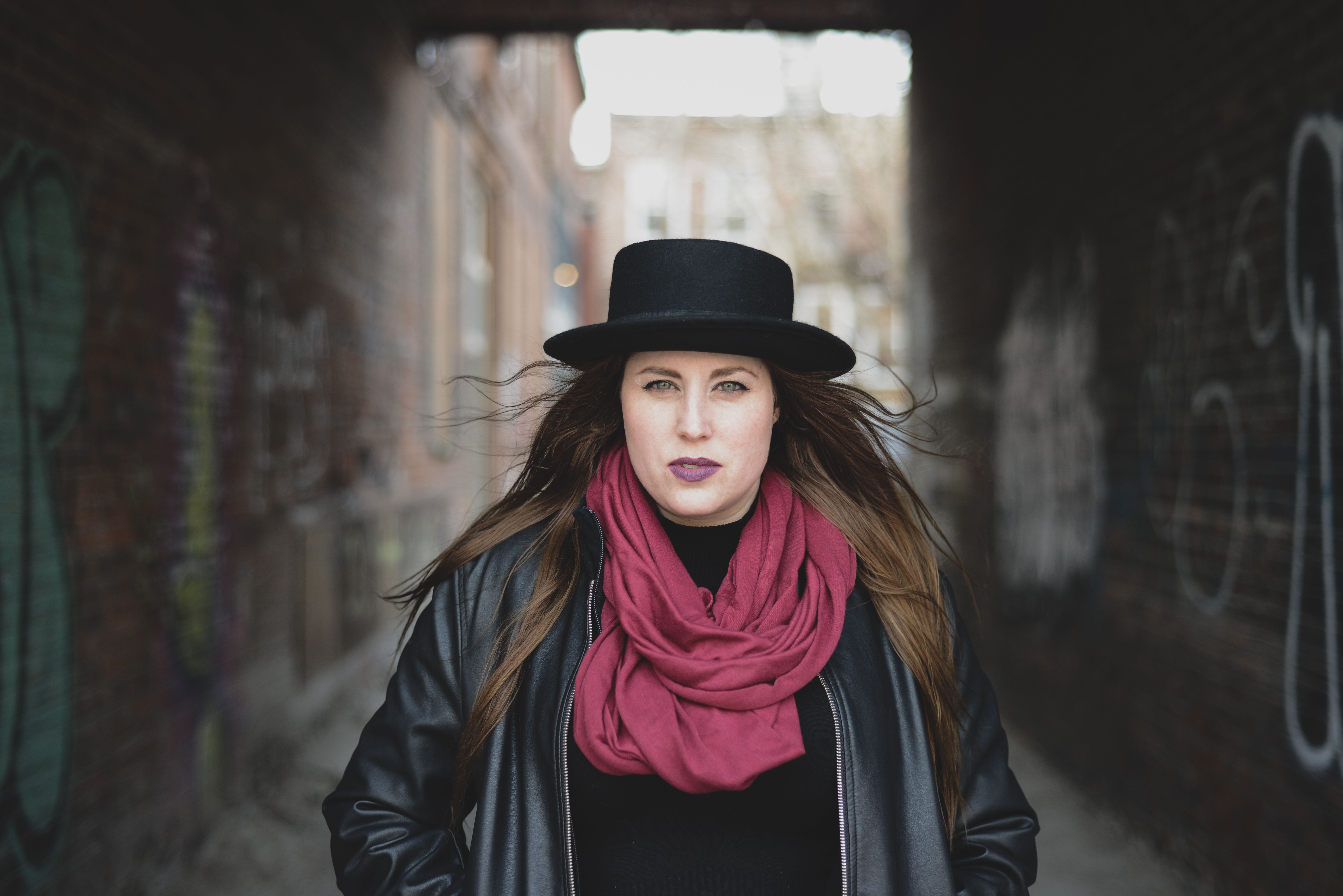 Photo By Karol Orzechowski